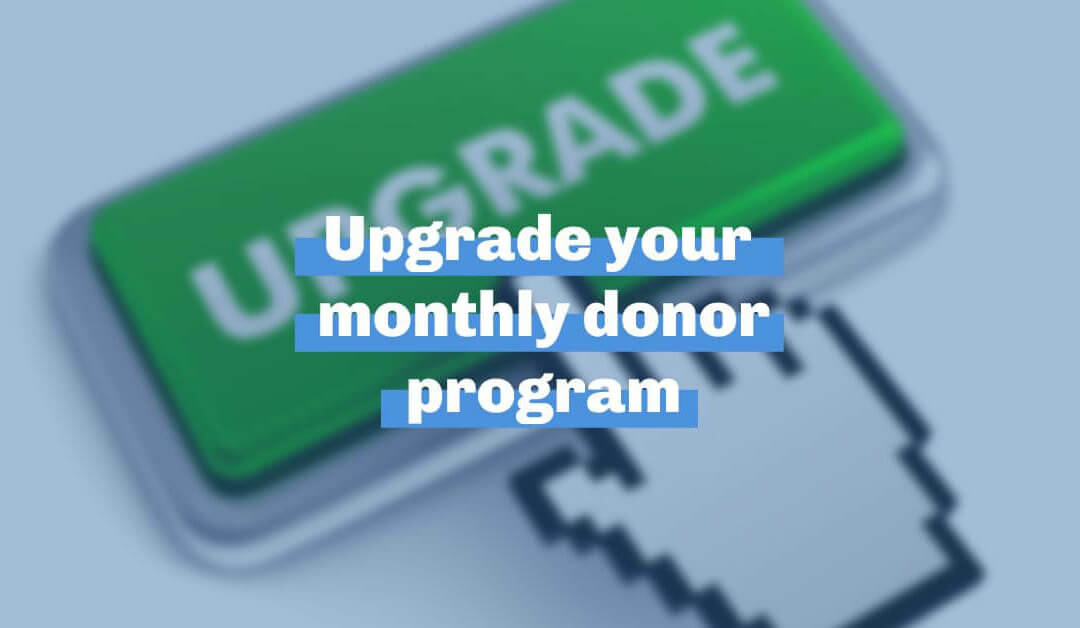 Monthly donors are magic for nonprofit organizations. On average, monthly donors contribute the largest—and most consistent—portion of the donation pie. But these power players come with a catch: Acquiring recurring donors takes more patience and planning than snagging the occasional one-time gift.
That's where we come in. We've compiled a series of resources that offer foolproof, step-by-step instructions to help you develop the gift program that, well, keeps giving.
Build a monthly gift program that works
Let's start with the basics: goals, outlines, and knowing your donors. Asking yourself targeted questions about the goals of your campaign is a great way to trim unnecessary tasks from your program agenda. What's the average monthly gift amount you're aiming for? How many monthly donors would you like to accrue in a year's time?
Developing an outline for your monthly giving program framework will help you clearly define expectations at every step of the process. How will you measure success and how often? When do you plan to send your donors an email or give them a call? What content will you include in your outreach?
Then, an investigation of your donors' motivations and similarities will help you learn how to both retain your current gifts and find more people interested.
Current donors don't want their generosity stretched by monthly giving requests that appear to demand too much. Luckily, there is a way to tastefully invite donors to your program without appearing inconsiderate. The key is to rely on carefully crafted segments: monthly givers, major donors, and smaller donors, for example.
Plan your monthly donation appeal strategically, ask for monthly gifts when you have time to cultivate donors over time, and be sure to acknowledge existing donors' past support. And don't forget the most simple steps, like adding 'one-time gift' or 'monthly gift' check boxes to every online donation form and reply device.
If the gist of your fundraising appeal is "donations help us," you probably won't get much mileage out of your campaign. It's time you start thinking like a donor. Asking what's in it for them? is step one in boosting your campaign's creativity with original incentives. Try setting a fundraising target, making a campaign video, or setting up a rewards program with tangible benefits. Abundant bonuses (and LOTS of gratitude) for monthly givers will keep their motivations strong and their subscriptions active.
Knowing your success metrics will help you evaluate if your monthly giving campaign is meeting its goals or needs a remodel. Learn how to calculate donor retention and attrition rates, donor lifetime value, and gift retention. And for campaigns in need of a new suite of retention strategies, test out thank you email templates and impact-forward email appeals. Your spreadsheets and annual reports will thank us.
When your donors sign up, don't miss the opportunity to gather data from them about their likelihood of giving for the long term—or losing interest quickly. Evaluating their sign-up experience, as well as a few other indicators, can help you extrapolate trends. Do donors tend to unsubscribe if they are over or under a certain age? Or do limitations to your payment method cause donors to drop out? Learning the factors that are and are not within your control can help you optimize your users' experience.
Learn from these nonprofits doing the monthly-gift-thing well
Learning the tools to build your campaign is half the fun—but diving into what's possible is a great way to get your team hyped. These nonprofits lead by example with creative approaches to their monthly gift campaigns. Elevate your strategy by borrowing monthly gift ideas from the best in the business.
This comfort care home sent special personalized cards to new donors right away to communicate the personal impact they have.
At Hildegard House in Louisville, Kentucky, their mission is to provide compassionate care for individuals who are isolated as they experience the end of their lives. When their executive director learned the benefits of monthly giving, she first became a monthly donor elsewhere to learn the dos and don'ts of donor communication. She quickly saw the benefits of personalization and consistency, so she maximized connection with regular newsletters, holiday cards, event invitations, and in-person thank-yous.
This family service provider opened their monthly giving appeal with a personal story both compelling and uplifting.
Jewish Family and Children's Services offers necessities and life-saving care to vulnerable people in crisis. Their email is the paragon of concise storytelling that hits the reader fast with emotions. They first thank donors and welcome them into their giving community. Then they share the story of their client, Vivienne, who struggled to buy groceries with her heart condition and no family. They shared what it meant to Vivienne when JFCS showed up to her house with groceries and aid. This example ropes readers in quickly and shows how their organization is the answer to their clients' needs. Then, they share how monthly gifts can continue to provide care—and how to start giving.
This safe water and HIV/AIDS support organization uses page-filling images to hook the donor, then progress bars and impact blocks to connect readers to their projects.
Blood:Water fights the HIV/AIDS crisis and water crisis in Africa by partnering with local grassroots organizations for sustainable development. The NGO considers itself a "development organization" and centers its long-term impact in its organization's design. Naturally, their email visuals also had to be impact-forward and tell a gripping story. The reader first sees an explanation of the crises laid over commanding photos of natural water. They then see impact blocks explaining the local organizations they support and the ways donors can choose to help. Finally, their progress bar encourages donors to give by providing a specific amount they are working towards—and emphasizing their proximity to that goal.
This girls' education nonprofit marketed monthly donors not only as generous individuals but as a valued community.
With a few changes, you can transform a group of people with nothing in common into an exclusive club. That's what She's the First did when they started their monthly giving program. The nonprofit works to support girls' education and rights, so they called their monthly donors the "Front Row" after the most excited students in the classroom. Within the Front Row, they also created tiers for different gift groups including "Girl Champions" for donors giving over $100/month and "Equality Advocates" for donors giving over $50/month. Most importantly, donors in each group are listed and celebrated in each email—with abundant gratitude for their contribution to the cause.
This global health organization launched its monthly giving program with branding distinct from its other campaigns.
Watsi is an international healthcare organization that provides health care to people worldwide by funding a series of local health teams based around the globe. They set up their monthly gift program, called the Universal Fund, with a new branding initiative that dominates their website landing page. They gained more traction promoting their Universal Fund in a way that's visually distinct from their organization, including inspirational photos and background information. Critically, Watsi also attracts sustainers by giving them information about the individuals their donations are helping—and sending follow-up emails on each patient's care and progress. Compared to Watsi's more general marketing initiatives, the Universal Fund employs a dignified and intimate look into the care its patients receive.