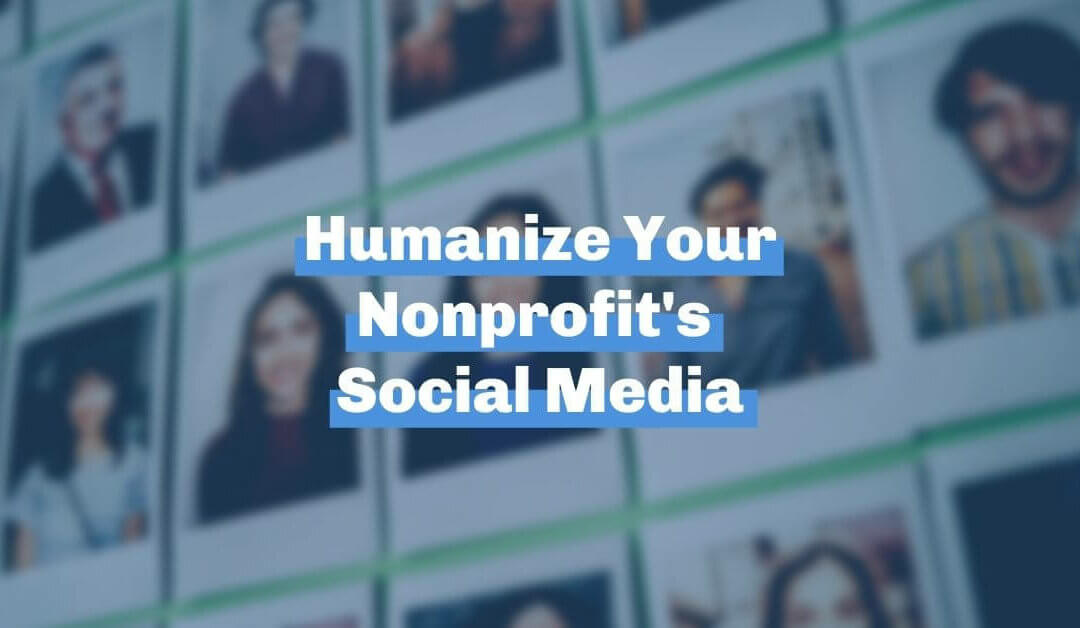 There's a reason you listen to podcasts your friends recommend. There's a reason that you ask to "speak to a representative" when you get an automated voicemail. There's a reason your boss asks for references and your politicians run door-to-door campaigns:
People trust information when it comes from people. 
It may seem obvious—nobody likes propaganda, impersonal video ads, or yelling monosyllabic commands at an answering machine. But nonprofit marketers underestimate the power of human voices for human messages, especially when it comes to their nonprofit's social media strategy.
With the rise of the influencer economy, the ethical tilt to product marketing, and relationship-focused branding, it's clear that the social media milieu is moving towards maximized personalization. Have you noticed how car commercials now sell family vacations instead of extra cup holders? Perhaps unsurprisingly, it sells to talk to customers like the people they are.
For a nonprofit organization, telling stories with honesty, personality, and humanity is critical in every step of your communication strategy. Here are the best ways to craft humanized social copy made by real people (you!) and for real people (your community!).
1. Match your marketing to your message
With so much going on in the day-to-day of a typical nonprofit, social media strategy can often fall to the wayside. Without a concerted effort, it's easy for nonprofits to make their own (incredible, powerful, transformative) impact sound lifeless in a post. So what needs to change? What makes written words sound human?
Write with emotion. How does your cause make you feel? Frustrated? Inspired? Overwhelmed? Hopeful? All of the above? Add a dose of that to your copy. Meet your reader in the world of emotion and channel the feelings they experience when learning about your work.
Write to your audience. People speak differently to their boss than they do to their best friends—so know who you're speaking to. What vocabulary is unique to them? What tones do they respond to?
Write with kindness toward imperfection. Sometimes we forget to donate. Sometimes we are uninformed about issues. Sometimes we recycle incorrectly. Make sure your reader knows you aren't perfect, either; they'll appreciate your kindness and feel open to your call to action.
Looking for an example? Girls Computing League does a great job bringing their unique voice to their Instagram. Working to bridge the gender gap in STEM fields, they provide scholarships to girls in STEM and invest resources for girls in low-income schools.
Their account vibrates with life by speaking directly to girl coders and the people who support them. Posts include TikToks using popular sounds to talk about being underestimated by men in their field, posts on STEM women in history, or educational posts on writing a professional email. Their excitement about women in STEM industries is palpable in the voice of frustration, sass, and encouragement in each post.
2. Promote messages that vibe with your values
Want people to recognize your name? Start with helping them recognize your values.
Whether you care about climate justice, ending world hunger, or arts programs in schools, the good news is you are not the only one who cares. Reels, stories, and infographics are great tools for cross-promotion with the people, organizations, and brands fighting the same fight.
Repost your amazing donors' content. The Karam Foundation reposted a story from a donor who supported them with a marathon fundraiser. St. Jude pinned a video on their TikTok celebrating accounts that link to their fundraising page in their bio. Appreciating current donors? Check. Demonstrating support to new donors? Double-check.
Link to organizations doing similar work. Urban Indigenous Collective cares about supporting Indigenous people, so this post with links to the American Indian College Fund was a great way to demonstrate their values. It establishes their account as a place for UIC content, but also as a bulletin board for organizations supporting Indigenous people.
Promote your partners. Are local businesses helping you with an upcoming event? Do companies donate to your cause with the purchase of select items? Girls Inc. benefits from purchases made at Macy's and Thinx and celebrates these partnerships with posts like this.
3. Show us what success looks like
Repeat donors feel connected to the story of your impact—and they want to continue being a part of it. Compared to emails and newsletters, social media tends to be more visual and interactive—so it's a great place to make your impact more visual and interactive, too!
Mercy Corps posted about a Ukrainian refugee family's journey and the medical supplies, food, cash, and support they were able to give them. Notably, this post doesn't use pity to tell their story in an undignified way but instead shows the family's journey and the agency they display as they plan their next steps. Kudos to you, Mercy Corps.
Organizations like Hand on Heart WWP, which serves people experiencing homelessness, also do a great job of showing their impact. It's not respectful to take pictures of vulnerable unhoused people, so Hand on Heart posts photos of large piles of sleeping bag donations and care packages instead. Other houseless aid groups often lean on pretty infographics of their impact stats, but they can feel hollow, making donations feel less tangible. Hand on Heart owes its social media success to videos like this that put donors in the room with the amazing resources they purchase.
4. Tell us what happens behind the scenes
We love the design and polish you put into your infographics, your videos, and your curated color scheme. But sometimes, your produced facade hides your real story. For donors who want to know that your nonprofit is legit, trustworthy, and effective, try these posts to help pull back the curtain.
Give us a tour of your facility. Show off your youth center, your animal shelter, your school, or your office! Even if it's messy or busy or chaotic, donors want to see where the magic happens. The Cattery cat shelter has a beautiful TikTok tour of their facility that shows off all the ways they provide for their furry friends.
Introduce your team. Whether through a video interview, a post, a story, or a TikTok, donors want to know your volunteer coordinators, your accountants, and your CEO. You can talk about why they are special to your operations ("Diana is the master of managing receipts") or what they do on the side ("Diana's two dogs, Lucky and Frankie, have been with her for ten years. It's no coincidence she is so passionate about animal rights.") If you have confidence in your team's work, donors will too. This "meet our team" post from Site Design Group does a great job of introducing their staff.
Introduce your board members. If your website's board member bios feel a little tired, try this approach. Post about your board members in action: photos of them with the family they mention in their bio, working with your volunteer team, or answering fun questions relevant to your mission. Massachusetts Avenue Project has creative "Meet the Board" posts on their Facebook page.
Product tour. If your nonprofit donates products like hygiene care packages or boxes of books, show donors what they look like! Tell us about your materials, your delivery style, and what makes your products valuable and unique. Days for Girls, a menstrual health NGO, uses the highlight feature on Instagram to explain the features of the DFG pad and what comes in their full kit.
Day in the life. TikTok "day-in-the-life" videos are really popular right now—and they can be great for a nonprofit to show off how you spend your time and where donations go. What does a day in the life look like for a community organizer? A youth leadership camp counselor? An animal shelter staff worker? What would surprise people about the work you do all day? Community Action Partnership has a great day-in-the-life TikTok showcasing how their Health Coordinators support their community. Check out a few nonprofits we love following on TikTok.
Sneak peeks as you prep for events. If you want to boost excitement for an upcoming event, "sneak peek" posts are a great way to drum up anticipation. If you've got an auction at your gala, show off the prizes people can bid on. If you have a tree planting event for Earth Day, show off the saplings that need a new home! Give donors the inside scoop about how your event space is looking, how excited your staff is, and all the fun bonuses they can look forward to. United Way of Greater Baytown Area made a Facebook post leading up to their Volunteer Appreciation Awards to get people excited.
It's not hard to be human, but it does take intentionality. 
Humanizing your nonprofit's social media doesn't have to be hard, but it does take effort. Luckily, it's worth it—both to build community and foster ongoing support. Speaking to current and prospective donors like real people will make it easier to create and foster long-term relationships, connect with your supporters, and spark even more impact for your mission! Win win win.